http://www.bbc.co.uk/programmes/articles/1jHbQn8NDBnPYvwLMpx6KVZ/middle-earth-in-colour-how-tolkien-drew-his-fantasy-universe
Selected quotes:
The author of the most influential fantasy novels ever written, The Hobbit and The Lord of the Rings, also created stunning illustrations of his Middle-earth universe. Curator Catherine McIlwaine explains the story behind the Bodleian Library's new JRR Tolkien exhibition.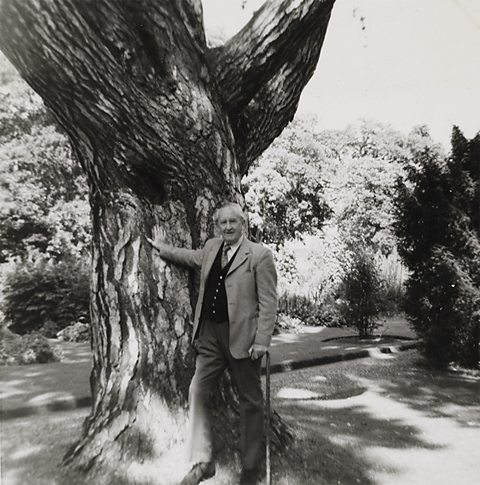 Tolkien's talents as an artist led him to paint and draw scenes from his stories. These works of art were created purely for pleasure during the Oxford vacations when he was freed from the pressures of lecturing and examining, and he seems to have had no thought of publication. It was only when his children's story, The Hobbit, was published in 1937 that his artistic talents were brought to a wider audience for the first time.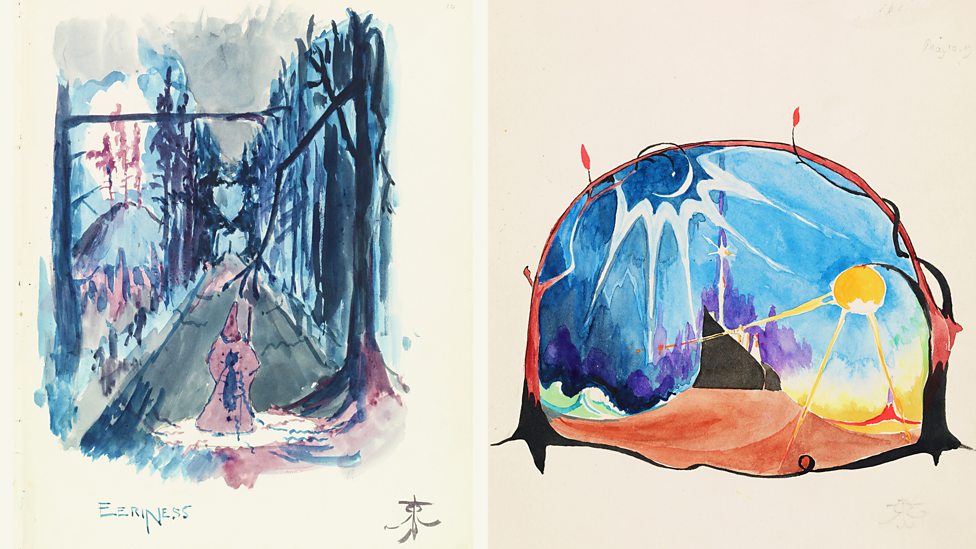 An early version of Gandalf? Eeriness, from The Book of Ishness, 1915 / The Shores of Faery: a depiction of the white citadel of Kôr, the city of the Elves in Valinor, 1915; one of the earliest known items relating to The Silmarillion © The Tolkien Trust 1995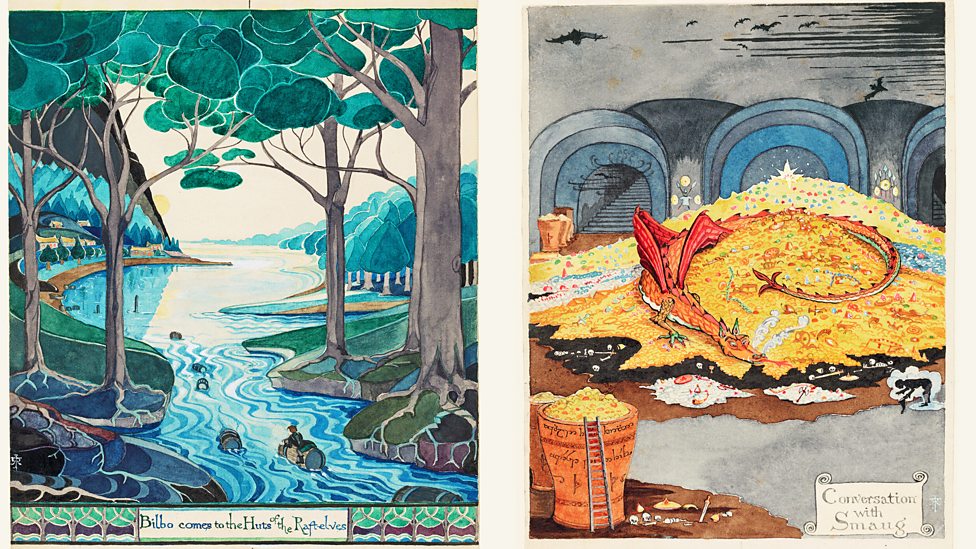 Colour illustrations for the first edition of The Hobbit: Bilbo comes to the Huts of the Raft-elves (left) was Tolkien's favourite watercolour and he was disappointed to find that it had been omitted from the first American edition / Conversation with Smaug: Bilbo Baggins, rendered invisible by a magic ring, converses with the fire-breathing dragon © The Tolkien Estate Limited 1937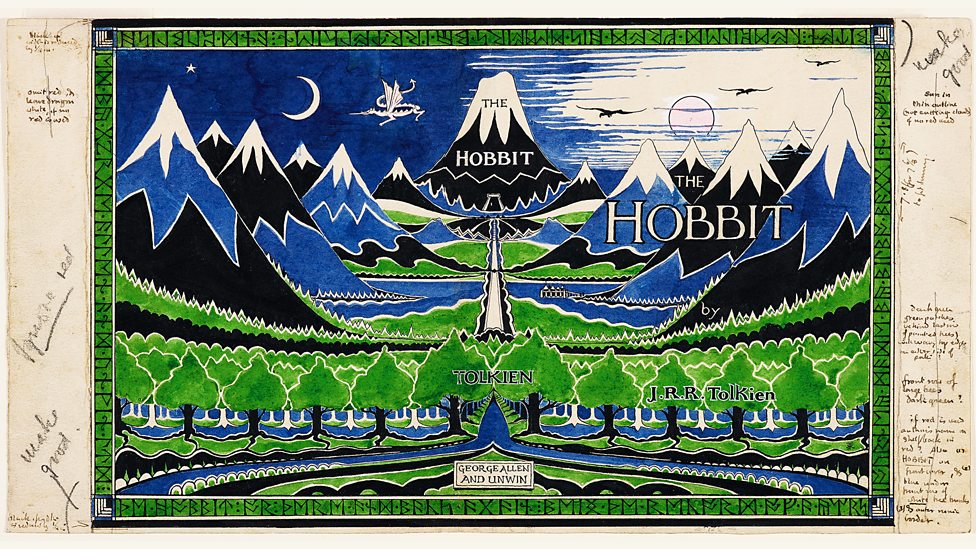 Tolkien's notes can be seen around his design for the dust jacket of The Hobbit. There is also a publisher's note, "Ignore red", to reduce printing costs. © The Tolkien Estate Limited 1937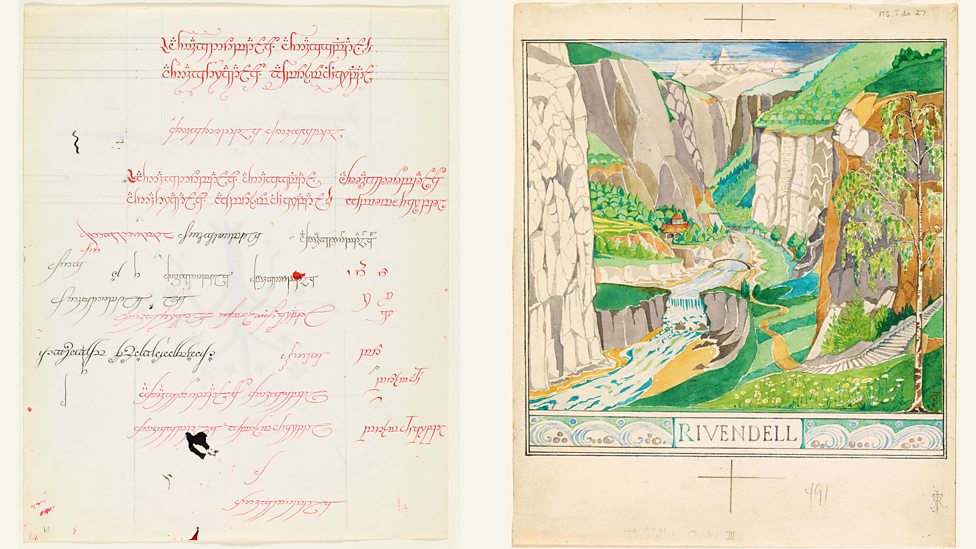 Elvish fire writing © The Tolkien Trust 2015 / Colour illustration from The Hobbit of Rivendell, an Elvish realm which also features in The Lord of the Rings and The Silmarillion © The Tolkien Estate Limited 1937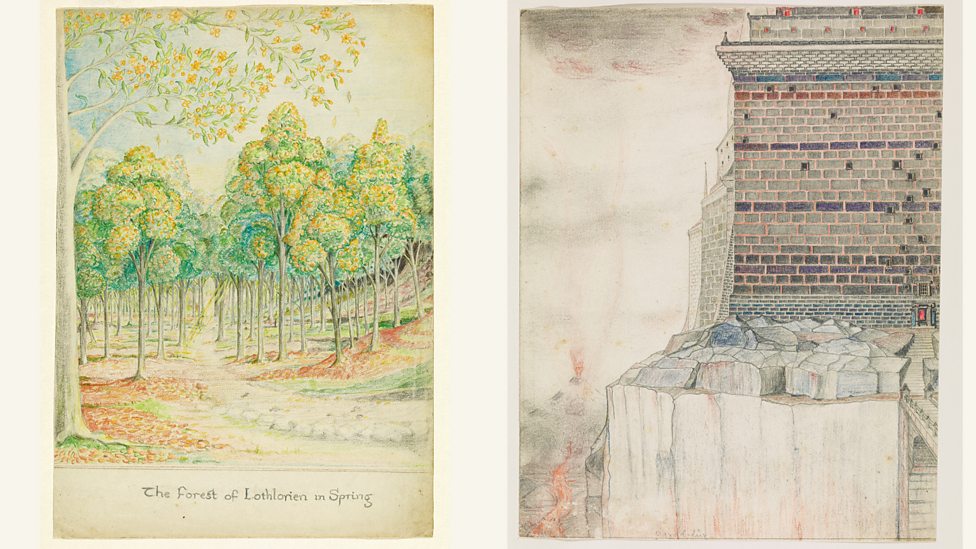 The Forest of Lothlórien in Spring © The Tolkien Trust 1973 / Barad-dûr: The Fortress of Sauron © The Tolkien Trust 1972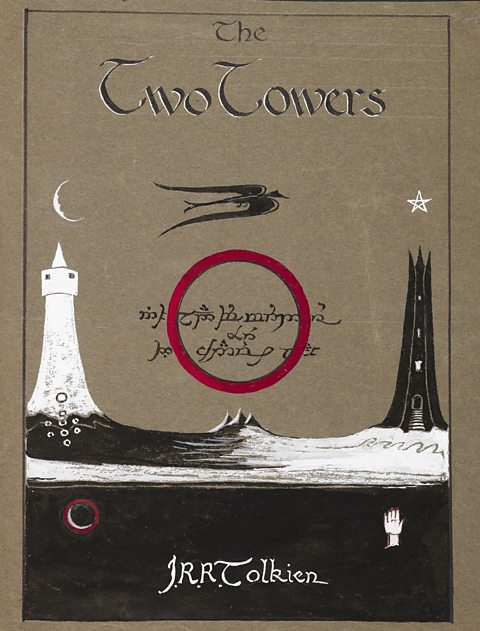 The Two Towers dust jacket; the second part of Tolkien's The Lord of the Rings trilogy © The Tolkien Estate Limited 1937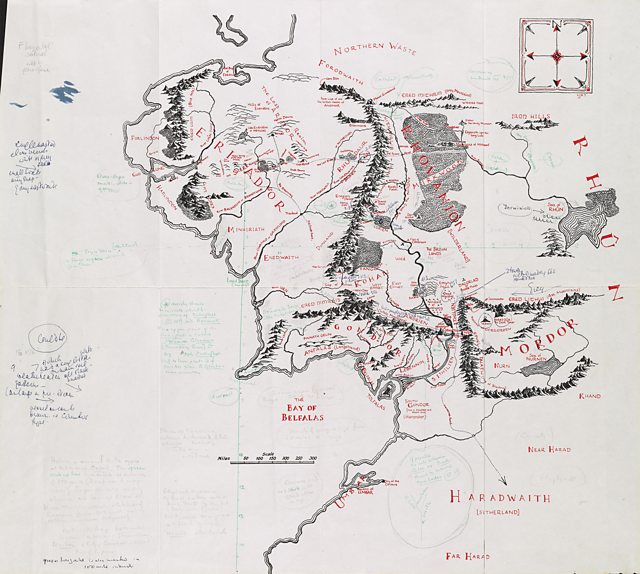 A map of Middle-earth was included in the first two volumes of The Lord of the Rings; an essential guide for readers. This 1969 version bears Tolkien's annotations, revealing extraordinary conceptual details of his imaginary world. © Williams College Oxford Programme & The Tolkien Estate Ltd, 2018
Between the velvet lies, there's a truth that's hard as steel
The vision never dies, life's a never ending wheel
-
R.J.Dio
I'm surprised I missed this yesterday.

Those are very nice pieces. It's a shame I will not be viewing them because I live on the other side of the pond. He was a supremely talented man.

OsricPearl

A lady of the castle




Posts

: 362


Join date

: 2017-08-07



I was lucky enough to have visited Oxford and one of the things that we had to do was have drink at The eagle and the Child.
https://en.m.wikipedia.org/wiki/The_Eagle_and_Child
One of the stomping grounds of Tolkien and CS Lewis. I can understand where these writers found their inspiration. The architecture, history, academia make Oxford a very lovely place. A+

Sary

A lady of the castle




Posts

: 618


Join date

: 2017-07-10



---
Permissions in this forum:
You
cannot
reply to topics in this forum