1,700-year-old Roman coin sells for £550,000
https://www.dailymail.co.uk/sciencetech/article-7112813/Incredible-2-300-year-old-Roman-coin-sells-550-000-auction.html
Quoting:
A stunning gold coin emblazoned with the face of Roman Emperor Allectus - has sold for a staggering £550,000. The incredibly rare coin was found by an unnamed treasure hunter as he searched a newly-ploughed field next to an old Roman road near Dover, Kent.  It was purchased by an enthusiast, also unnamed, and is worth far more now than it was when it was minted 1,700 years ago.
Known as an Aureus, the 24 carat gold coin has just one matching example in the world which is in the British Museum and is thought to have been worth 25 pure silver dinarii. The coin depicts a noble-looking Allectus on one face and on the flip side has two captives kneeling at the feet of Apollo . . .
Nigel Mills, of a coin consultant from Dix Noonan Webb, said: 'This is an amazing find and is one of the finest condition coins out there. I've never seen one like it in my 40 years of work so it really is a remarkable discovery . . .The rarity is there, the condition is there and it's made of 24 carat gold all of which make it an fantastic coin.'
Wikipedia:
Allectus was treasurer to Carausius, a Menapian officer in the Roman navy who had seized power in Britain and northern Gaul in 286. In 293 Carausius was isolated when the western Caesar, Constantius Chlorus, retook some of his Gallic territories, particularly the crucial port of Bononia (modern Boulogne), and defeated Frankish allies of Carausius in Batavia. Allectus assassinated Carausius and assumed command himself.
His reign has left little record, although his coin issues display a similar distribution to those of Carausius. They are found in north western Gaul, indicating that the recapture of Bononia did not spell the end of the rebel empire on that side of the English Channel.
Constantius launched an invasion to depose him in September 296. His forces sailed in several divisions. Constantius led one division from Bononia, but seems to have been delayed by bad weather. Another division, under the praetorian prefect Asclepiodotus, took advantage of fog to avoid Allectus's ships stationed at the Isle of Wight, and landed near Southampton Water, where they burnt their ships. Allectus's forces were forced to retreat from the coast, but were cut off by another of Constantius's divisions and defeated. Allectus himself was killed in the battle, having removed all insignia in the hope that his body would not be identified. Archaeology suggests that Calleva Atrebatum (Silchester) was the site of his defeat or the area surrounding the town. A group of Roman troops, who had been separated from the main body by the fog during the channel crossing, caught up with the remnants of Allectus's men, mostly Franks, at Londinium (London), and massacred them. Constantius himself, it seems, did not reach Britain until it was all over, and his panegyrist claims he was welcomed by the Britons as a liberator.
Last edited by Neon Knight on Sun 15 Dec - 3:03; edited 1 time in total
Between the velvet lies, there's a truth that's hard as steel
The vision never dies, life's a never ending wheel
-
R.J.Dio
That's amazing! It's a beautiful coin. As a coin collector of sorts, if I had all the money in the world, I would buy it. I've always thought that selling old coins with a certificate of authenticity was was a good way for museums and colleges to make money. There was a scandal some time back in Sweden where some coins were being smelted. What a waste! Let me have some of those, ya know? I'm sure plenty of people would pay bank to have authentic viking and roman coins.

OsricPearl

A lady of the castle




Posts

: 400


Join date

: 2017-08-07



Wow, that coin is magnificent!

If I ever came in possession of it, I would have it set and I would wear it as a pendent on a 24 karat gold chain around my neck.

It would make perfect necklace for you OP, seeing that the flip side has your favorite god, Apollo depicted on it.


Sary

A lady of the castle




Posts

: 680


Join date

: 2017-07-10



Whole chicken egg from Roman Britain recovered in southern England
https://www.bbc.co.uk/news/uk-england-beds-bucks-herts-50603415
Quoting:
The only complete chicken's egg from Roman Britain is a "genuinely unique discovery", according to an expert.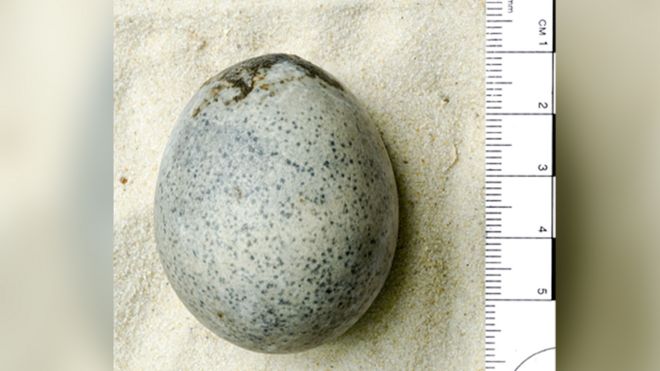 It was one of four hen's eggs found during a dig in Aylesbury, Buckinghamshire, although three broke releasing a "potent stench". The "remarkable collection" of other organic finds included leather shoes, wooden tools and a "very rare" basket. Archaeologist Edward Biddulph said the extent and range of discoveries "was more than could be foreseen". Mr Biddulph, senior project manager with Oxford Archaeology South, said the "standout discoveries" were found in a pit. From the late Third Century, people threw objects into it for good luck "much like a wishing well".
"The pit was still waterlogged and this has preserved a remarkable collection of organic objects. Most extraordinary of all was a basketry tray, made of woven oak bands and willow rods, and four chickens' eggs." The eggs were so fragile, three broke releasing a "potent stench of rotten egg", he said.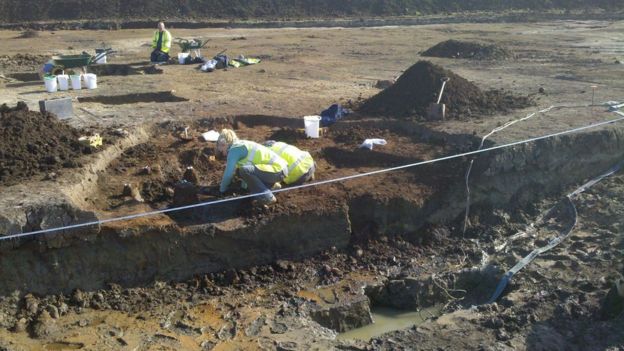 Eggs were associated with fertility, rebirth and the Roman gods Mithras and Mercury. Eggshell fragments have been found before, usually in Roman graves, but this is the "only complete Roman egg known in Britain" and "a genuinely unique discovery", Mr Biddulph said. He believes the eggs and bread basket could have been food offerings cast into the pit as part of a religious ceremony during a funeral procession.
Pre-Roman finds were also discovered, but the site reverted to agriculture after the late 4th Century. The dig took place between 2007 and 2016, ahead of the development of the Berryfields site, a mix of housing and community facilities. It borders the Roman road of Akeman Street, under the A41, next to the Roman town at Fleet Marston. The full results of the dig are being revealed after three years of analysis.
Between the velvet lies, there's a truth that's hard as steel
The vision never dies, life's a never ending wheel
-
R.J.Dio
NOTE: I'll put all the Ancient archaeology posts on this thread when I get around to it.
Between the velvet lies, there's a truth that's hard as steel
The vision never dies, life's a never ending wheel
-
R.J.Dio
---
Permissions in this forum:
You
can
reply to topics in this forum