Page 2 of 2 •

1, 2
The well known Conservative politician Jacob Rees-Mogg got some criticism for tweeting this video of the AfD co-leader Alice Weidel speaking against the EU. It was the usual semi-hysterical liberals saying "Nazi", etc.



It's a perfectly reasonable and civilised speech!
Between the velvet lies, there's a truth that's hard as steel
The vision never dies, life's a never ending wheel
-
R.J.Dio
https://www.bbc.co.uk/news/world-europe-51400153
Quoting:
. . .
Thuringia's AfD - led by a man who can, a German court ruled last year, be reasonably described as a fascist - has caused a political earthquake which has brought thousands of Germans on to the streets in the protest.
Until a few days ago, many of those protesters had never heard of Thomas Kemmerich. The regional politician was, for 24 hours or so, unexpectedly elevated to the role of state prime minister thanks to the support of regional AfD politicians who ignored their own candidate in order to oust existing prime minister Bodo Ramelow who, following inconclusive elections last year, had been widely expected to continue as leader over a newly negotiated left-wing coalition.
After countrywide outrage, Mr Kemmerich stood down. But not before the Free Democrat came to symbolise the vulnerability of what the Germans call the Brandmauer - the firewall which, by decades-long political convention, is supposed to keep the far right from exerting real influence over German politics.
For many it's a mark of national shame that the AfD has found such fertile electoral ground in the former east of the country. It's one of the reasons for the inconclusive election result in Thuringia. At national level, the party's presence in the Bundestag has coarsened parliamentary debates and, arguably, its campaigns centred around migration and national identity have broken old German taboos and shifted politics to the right, as the political centre struggled to deal with the electoral challenge.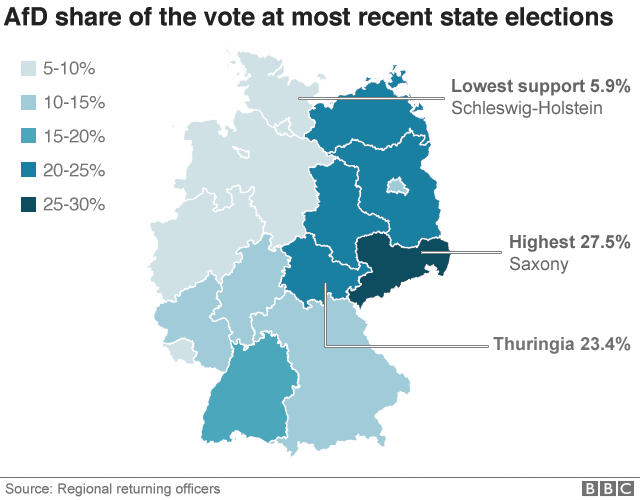 . . .
The chancellor [Angela Merkel], who described what happened as "unforgivable", sharply rebuked regional politicians from her own party. They had also voted for Mr Kemmerich, eliciting accusations that - locally at least - the CDU was ready to break a pledge to never join forces with the far right.
The head of Mrs Merkel's CDU, Annegret Kramp-Karrenbauer, will discuss the matter with her coalition partners this weekend. Her ever reluctant Social Democrat partners will no doubt want assurances that the CDU has no intention of working with AfD at any level and that she - and her party - can control its regional politicians. She herself is under pressure. Having forbidden Thuringia's CDU leader from seeking a local alliance with Die Linke (the Left party), some are unsurprised that the party aligned itself, knowingly or otherwise, with the AfD. The German government is also painfully aware of the changing political landscape - and the part AfD plays within it.
In Thuringia, fresh elections are now expected.
Between the velvet lies, there's a truth that's hard as steel
The vision never dies, life's a never ending wheel
-
R.J.Dio
Page 2 of 2 •

1, 2
---
Permissions in this forum:
You
can
reply to topics in this forum